출처Online 개최
조회수 205
등록일2020-09-28
첨부파일
바로가기
Automating liquid handling steps in COVID-19 test facilities
Webinar : Automating liquid handling steps in COVID-19 test facilities
When:
October 6th, 2020 from 8 to 10 am[
Tuesday, October 6th 2020, 3 to 5 PM (KST) ]
Flow Robotics and The Embassy of Denmark, Stockholm invite you to an exclusive webinar introducing the pipetting robot flowbot ONE and its flexible setup opportunities for preparation of COVID-19 samples.
CCO at Flow Robotics - PhD in Molecular Biology Morten Sunesen will introduce you to and demonstrate flowbot ONE and its various options for setups that are used in COVID-19 test facilities. Experience the high degree of flexibility the flowbot ONE offers.
In Denmark several Danish hospital labs already use flowbot ONE to automate their liquid handling steps for COVID-19 samples. This webinar will showcase:
Handling swab tubes

Setup qPCR

Data handling & automation
Please feel free to ask all questions that come to mind during the event. At the end of the event we will have a Q&A session where we will go through all questions.
Kind regards,
The team at Flow Robotics and Morten Sunesen, CCO Flow Robotics, PhD Molecular Biology
Flowbot ONE System_________________This exclusive event is a collaboration between Flow Robotics and The Royal Danish Embassy of Denmark, Stockholm
문의 : 010-7290-1487 / 2ncbiotools@gmail.com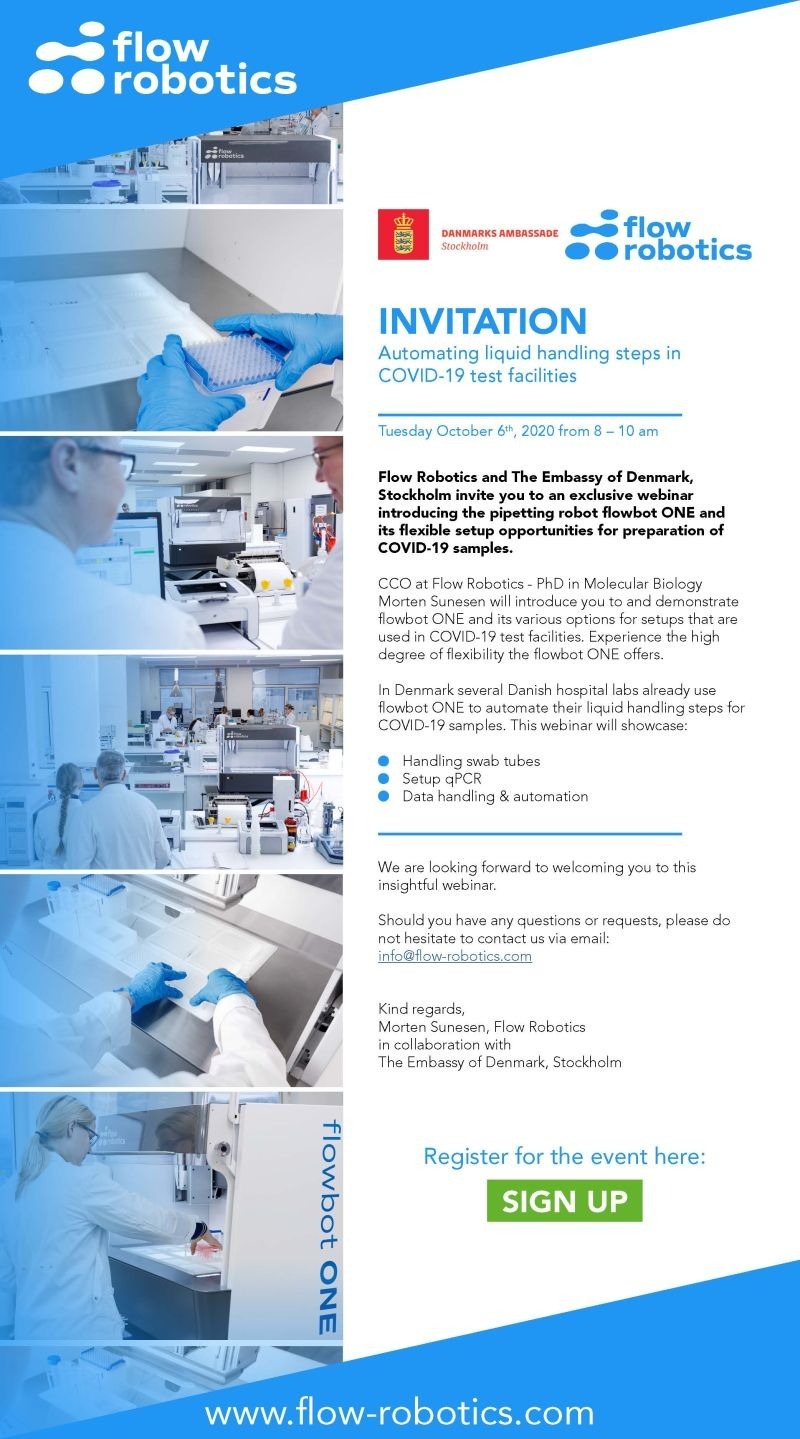 ...................(계속)
☞ 자세한 내용은 내용바로가기 또는 첨부파일을 이용하시기 바랍니다.